A 16.2hh Off the Track Thoroughbred, Summer is by Chianti (Ire) out of

Summer Classic. Unnamed, and only raced 3 times, she was purchased in August 2014 for just $500.


​The first job was to get her condition up, and get her going calmly. We basically spent the first year feeding her and teaching her to walk - on a long rein!

It has been wonderful to see the difference between when she arrived, and a year later (right). As for becoming a mum, she looked the part - sleek and calm!
Powered by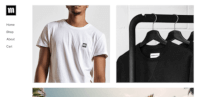 Create your own unique website with customizable templates.