This bridle is a combination of two of EMF Equine's designs - the halter style bitless bridle and the bitless converter for use with traditional bridles.


Because Juno is still green, we thought this customised bitless bridle might be best for making the transition to bitless. This clever girl can be ridden in a halter and most of her guidance is via leg aids, so we're sure she will learn quickly to respond to a light rein guide.

The braided reins are soft and clip on and off easily.

And how pretty is this teal on black look for a black quarterhorse?
Powered by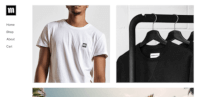 Create your own unique website with customizable templates.